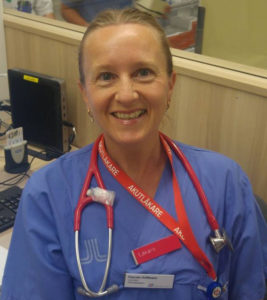 Dr Pascale Hoffmann MD
Executive Director
Pascale Hoffmann is born and raised in Luxembourg but lives in Sweden since 1994. She has an MD from the Karolinska Institute in Stockholm and is a board-certified medical specialist in both Internal Medicine and Emergency Medicine.
Dr Hoffmann has worked as a registrar in Emergency Medicine under Prof Peter Cameron at The Alfred hospital in Melbourne and held a position as Senior Consultant in Internal Medicine and Emergency Medicine at Södertälje hospital in Stockholm. She has also worked as a consultant in Emergency Medicine at the Astrid Lindgren Children's hospital and the Karolinska University hospital in Stockholm and has performed locum work at rural hospitals in Northern Sweden.
Dr Hoffmann's expertise lies within management of acute medical conditions and training of junior physicians and she has actively participated in developing the new Swedish curriculum in Emergency Medicine. She speaks six languages fluently.
In her private life, Dr Hoffmann has raised three children and likes outdoor activities like hiking, running or kayaking. When possible, she does yoga or travels to the mountains for relaxation and in wintertime she enjoys both cross-country and downhill skiing.